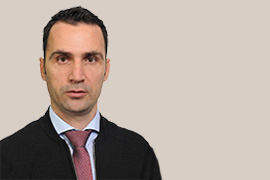 Address:
St. Universiteti, p.n. 70000 Ferizaj, Republic of Kosovo.
Prof. Ass. Dr. Bashkim Mustafa
Prof. Ass. Dr. Bashkim Mustafa is Professor of the University of Applied Science in Ferizaj, selected through a public competition, and appointed by the Rector by decesion no. Prot:3349/19; dated: 24.09.2019.
In 2007-2012 he was elected Head of administration of Postgraduate Studies – Master's Degree at the Faculty of Economics at the University of Prishtina.
In 2012-2016 he was elected Business Adviser to the CEO of Post of Kosovo, wheras since 2016 has been appointed as the Director of Sales and Marketing at Post Of Kosovo.
He was also the Chairman of the Audit Committee of the Ministry of Environment and Spatial Planning  in 2016-2017, and in March 2019 was elected by the Assembly of the Republic of Kosovo as a Member of the State Aid Committee.
During his studies from 2001-2005, he was involved in student organizations and parlament in University of Prishtina, working as an accountant. Also he was a part of USAID Research Programs.
Mr. Mustafa is a part of several professional teams, a member of the local development committee, a business advisor and in other professional engagements.
He has been engaged as a university lecturer in 2011, 2012 and 2013 at the University of Prishtina and at private Colleges in courses: Finance, Corporate Finance and Managment.
During his research and scientific work, he has managed to publish five scientific papers in international peer-reviewed journals with impact factors and a monoghraph.
He completed his Bachelor's and Master's Degree at the Faculty of Economics, University of Prishtina in Banking, Finance and Accounting. In 2018 he received his Doctor of Science Degree.
Prof. Ass. Dr. Bashkim Mustafa speak English.
This post is also available in: Albanian