Representatives of the Conferences of the Rectors of the Public Universities of Kosovo, chaired by Prof. Assoc. Dr. Artan Nimani and the vice president Prof. Dr. Agron Bajraktari, have visited the former President of Kosovo, Mr. Hashim Thaçi, former Speaker of the Assembly, Mr. Kadri Veseli, former Speaker of the Assembly, Mr. Jakup Krasniqi, former MP, Mr. Rexhep Selimi, chairman of the OVL of the KLA, Mr. Hysni Gucati and the vice president Mr. Nasim Haradinaj.
The representatives of the Rectors' Conference felt excited during the meeting with the leaders of the KLA, for the determination to win this war in The Hague and to prove to the world once again that our fight for freedom was fair.
Rectors Nimani and Bajraktari said that the situation of the liberators was very good and they expressed confidence that very soon they will be released innocently from The Hague, where they are being held and will return to Kosovo.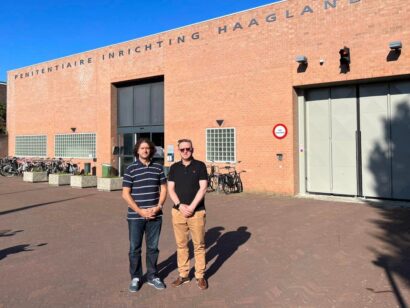 This post is also available in: Albanian