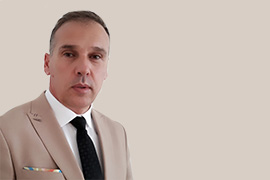 Address:
St. Universiteti, p.n. 70000 Ferizaj, Republic of Kosovo.
Prof. Asoc. Dr. Bashkim Çerkini
Prof. Asoc. Dr. Bashkim Çerkini is a Professor at the University of Applied Sciences in Ferizaj, selected in October 2018.
Professor Çerkini studied Computer Engineering at FIEK at the University of Prishtina and Computer Science at UBT Prishtina. He received the title of Doctor of Science in Operational Research at the Faculty of Natural Sciences at the University of Tirana.
Professor Çerkini has extensive experience in the fields of cost and budget management, Information Technology and logistics at US Kellogg Brown & Root Company in Kosovo and Iraq.
Professor Çerkini has worked at AAB Private College in Prishtina and Ferizaj.
He has published scientific papers in international journals and conferences and participates in national and international scientific committees.
This post is also available in: Albanian